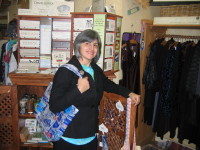 By Maria Luisa Whittingham
For many customers, Shop Nyack means chic and trendy. But more and more shoppers are asking for '€œgreen chic'€ '€" items with fashion sense that are environmentally responsibility from the merchants and the village they are supporting.
Leaning green means different things to different people. To some it means recycling or buying CFLs (Compact Fluorescent Light bulbs) and reusable shopping bags. Others focus on organic and locally grown food shopping or driving hybrid cars. We can all play a part in assuring the future health of the planet by making small changes in our shopping, energy and even eating choices.
Businesses everywhere, from Walmart to our villages' stores, are paying greater attention to their carbon footprints. It's time that as a community of merchants, Nyack takes its own giant green steps.
Here are some suggestions for retailers and shoppers to be greener, but there's so much more that we can do. Let's get the discussion going and be the river town that takes these important giant green steps:
"Do you need a bag with that?" Merchants should ask customers that question; simply saving bags, when tallied up, yields big results.
Recycle over and over again. Tires into purses, gum wrappers into belts? Creative vendors are offering more for less of an environmental impact. Be on the lookout for unusual merchandise made from recycled materials.
Less is More. How many ribbons and how much tissue paper does a package really need? Let's look for attractive ways to make a gift look special without overdoing the amount of waste we create.
Locally produced with pride. Our region is rich with gifted artisans. When we carry their wares, we reduce our carbon footprint by lowering transportation costs plus we're supporting Hudson Valley artists and craftsmen.
Demanding environmental responsibility from manufacturers. There is no good reason to pile on the packaging that merchandise is delivered in, or to waste fuel during delivery. If merchants and consumers seek greater transparency and responsibility from manufacturers, we may begin to see more products in less packaging.
Coming soon to an inbox near you. Email receipts to cut down on immediately disposable paper. Software that lets merchants send receipts via email rather than paper is on the market; expect retailers to offer email receipts in the near future. Granted, paper receipts are pretty small, but they all do add up.
Giving fair trade a fair shake. While it's great to buy local, we are living in a global economic environment and many merchants in town carry goods from overseas. It's important that we support fair trade practices when selecting products: be good to the environment; be good to the people.
Recycle Downtown. Main Street, Franklin and Broadway, Memorial Park, too'€" where are your containers for recycling bottles and cans? Yes, it costs to buy the bins, but doesn't it cost more to not recycle?
What else can we all do to be more responsible? Let us know!
Maria Luisa Whittingham owns Maria Luisa and ML Gifts & Accessories in Nyack.