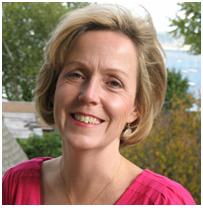 By Maureen Dougher
Walk the streets of Nyack today and take a look: empty stores, parking issues, the closing of Riverspace, etc.  Nyack faces many difficult problems.  But they can all be solved.  I am running for Village Trustee in the November 3rd election because I'm a problem solver.
As a Senior Research Scientist doing cancer research at Wyeth,  my job is to analyze complex health problems and find chemotherapy solutions to save people from cancer.  Now I want to put that same problem-solving discipline to work for Nyack, the village I love.
My husband and I have lived in Nyack for over 22 years. We've raised our three children here. We're homeowners. We're taxpayers. And taxes are a serious problem. But now we face a greater problem: the quality of life in Nyack is getting worse instead of better.
Why?  There's a lack of accountability here.  Government can't be held accountable when just one party controls it year after year.  So now I'm giving voters a choice to restore checks-and-balances.  If I'm elected, then I'll ask questions that cut to the chase and that need asking, to hold the Nyack government accountable to all the people.
Here are some key issues, and if elected, the tough questions that I'll ask about them and keep asking until we get real answers'€¦
Riverspace
Q: Where is a credible business plan? It is long overdue!
The Riverspace '€œsuperblock'€ concept involves building many new stores.  But I've counted 10 stores empty in Nyack today.
Q: How does it make sense to build a lot of new stores when we have so many empty right now?
Parking
Nyack has the highest parking fees and parking fines in the county.  High parking costs here are pushing customers away from Nyack businesses.  There may be a short term benefit to the Village budget from high parking fees'€¦
But'€¦
Q: Isn't there a big risk of high parking fees damaging our business community and thereby causing long-term serious injury to Nyack?
Many new parking spaces were created behind the theater.  But about the same number of spaces have been eliminated on Village streets from "white lining."
Q: Has the Village been too zealous in white-lining away parking spaces, especially near corners, and has the Village Board made the decisions on these eliminated spaces with appropriate public hearings and oversight?
New Zoning Law
Flaws have been found in the proposed new Nyack zoning law.  For example, it no longer lists '€œpublic library'€ as an allowable use where the Nyack Library is located.  Maybe just an oversight.
Q: How many other serious oversights are there in this proposed zoning law?
The proposed new zoning law needs a thorough review by the entire Village Board with questioning minds and a '€œfine tooth comb,'€ before it is enacted.  Elect me so I can make sure this happens.
The Other Candidates
I feel privileged to be competing for office with two other candidates who offer important and valuable qualifications.  Our qualifications are quite different, and in many ways complementary.  If I am elected, I would consider it an honor to be serving with either of them.  The public can only win from the outcome of this election.  Of course, we have different points of view due to our different backgrounds and experiences.  Allow me to point out where I both differ and agree with the views they have expressed here.
Doug has clearly restated some ideas that have surfaced several times in the past 20 years.  For example, the concept of merging Nyack and its neighboring villages into a Rivertown township has long had the appeal of economies of scale.  The problem is that when the people of South Nyack and Upper Nyack have taken a close look at what they'd lose from such a union, they want no part of it.  Why would the 3800 people of South Nyack and Grand View want to cede control of their police department to the 6700 people of Nyack?  Why would the residents of South Nyack and Upper Nyack want to lose control of their own zoning laws – which are markedly different from Nyack's?  This year South Nyackers had a 3% village tax increase, while Nyackers got a tax increase over 9%.  So what tax incentive beckons South Nyack to join Nyack?
There are, of course, many ways in which the Villages have joined forces to share services, costs and decision-making.  They include:  the Nyack Fire District, Ambulance District, The Nyack Library and of course, the Nyack School District.  So there definitely are many ways in which combined services have made sense and are being done right now.  But merging Village governments will probably never prove equitable for all stakeholders.
John G. pointed out in response to Doug that the villages split up in the 19th century for reasons that may still have relevance today.  He's right.  However I disagree that South Nyack split from Nyack out of selfishness in not wanting to pay for infrastructure improvements for Nyack.  Actually, the situation was the reverse.  After helping to pay for the paving of streets in downtown Nyack in the early 1870s, the people of southern Nyack asked to have their streets paved also. The downtown folks didn't want to help shoulder that cost and refused.  As a result, in 1878 South Nyack said goodbye, split, and did the paving on their own.  So is it fair to blame the split on South Nyack selfishness?  I think not.  And if South Nyackers today look back to 1878, it may be easy for them to imagine how the 3500 of them could be easily outvoted by the 6700 people of Nyack on any contentious issue in a merged government.  The same could be said for the 1900 people of Upper Nyack.  The electoral arithmetic just doesn't favor a merger, from the viewpoint of our neighboring villages.  Neither wants to climb in bed with what seems to them to be a 6700 lb. Gorilla – us!  It would be a waste of time, money and effort to do yet another study of the Rivertown township idea, because it has consistently been found to be so politically unrealistic.
Jen recommends that the Village consider hiring a Village Administrator-Treasurer after the current Village Treasurer retires.  I agree.  It might bring greater efficiency and save the Village money. We should take a close look at several other villages that have an administrator to see what their results have been.  Some administrator-run villages are: Tarrytown, Fairport, Farmingdale, East Aurora, East Rochester and East Rahway.  Key questions I would ask officials of those villages are: How do they divide authority between elected officials and the un-elected administrator? How do they ensure the accountability and fiduciary integrity of their administrator?  How cost effective has it been to have an administrator?  Did their village services improve?  Did taxes have to go up significantly to pay for an administrator?  Or did the efficiencies from having an administrator actually save money that got passed back to the taxpayers?  Having a Village Administrator is an important idea that might greatly benefit Nyack, and it should be carefully examined ASAP.
I share Jen's sensitivity to the concerns of our African American community, which is why I participated in the NAACP's Candidate's Night last week along with both of Nyack's mayoral candidates.  Unfortunately, Jen and Doug were no-shows at that event – probably just an oversight.  I was there to be in touch with the needs and aspirations of our Village's diverse people. We must listen to their needs and respond by doing our best to help make good things happen for them wherever it makes sense.
Jen urges the creation of a non-partisan political party for Village elective offices. Actually, there already is such a party on the ballot, with both Republican and Democrat founders – the Citizens' Committee (though it somehow got merged onto the ballot's Independence line).  I am its candidate for trustee.  However, there are advantages for the Village when its Board has people from both major parties.  When dealing with officials of higher levels of government, the Village can have more clout if it sends someone to represent it who is of  the same party as the official.  So I am also the candidate of the Republican Party.  But as Mayor Fiorelo La Guardia once said, '€œThere is no Republican or Democrat way to pick up the garbage.'€
Republicans are not quite as scarce in Nyack as Jen says: "five hundred and sixteen."  Actually, the Board of Elections says we are six hundred and sixteen.  But what's a hundred, here or there, except on election day!  She says Republicans won't sit down at the table with her and discuss Village issues.  Gosh, I was sitting at a table right next to Jen in the Journal News office a couple weeks ago and I thought we had a very lively discussion of issues.  Also at Nyack Center.  Glad to do it again over coffee at Runcible.  It's always a pleasure to have a thoughtful discussion with someone I like and respect, especially someone with a different intelligent perspective on things.  No doubt we – all three of us – really share the same goals for Nyack, and that is for Nyack to achieve its potential as a wonderful place to live for all of its people.  And to do it in the most cost effective way possible.
If I'm elected, I will consider it a privilege and an honor to serve you to the best of my ability.  I also pledge to work respectfully, earnestly and honestly with other Board members, regardless of party, to seek the common ground where the best interests of Nyack will be found.  May I have your vote for Nyack Village Trustee on November 3rd?