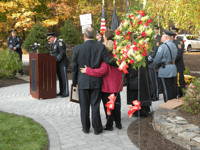 By Richard Kavesh
October 20, 1981 is a date which will live in infamy in Rockland County.
On Tuesday, under sunny skies and crisp weather, hundreds of police officers, relatives of the victims, public officials, and Rocklanders turned out to honor three former Nyack police officers. '€œThey gave their last full measure of devotion,'€ said Rockland County Sheriff James Kralik.
Twenty eight years ago, Nyack Police Sargent Edward J. O'Grady, Jr. and Nyack Police Officer Waverly '€œChipper'€ Brown were fatally shot by members of the Weather Underground, a radical domestic terrorist group who had just robbed $1.6 million from a Brinks armored truck at the Nanuet Mall and had already killed Brinks guard Peter Paige.
The murders took place at the Exit 11 entrance of the New York State Thruway, where Nyack police had set up a roadblock and the fatal volley of gunfire ensued.  Nyack Police Sargent Peter Kennan was also wounded.
The Rockland County Historical Society also unveiled a new marker on the newly landscaped grounds that declares these grounds on Mountainview as a landmark and briefly recounts the events of that day and the subsequent trials. O'Grady and Brown were also awarded Medals of Honor posthumously by the American Federation of Police. Michael Paige, who is Peter Paige's son, received its Patriot Medal.
See also: Mid-Hudson News, Journal News, Facebook
Photo Credit: Richard Kavesh