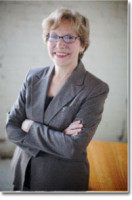 by Cliff Weathers
Thom Kleiner has been a very effective Town Supervisor over the years. He inherited a Town that was mired in debt and cronyism. But while in office, he was able to build a town government that has been consistently recognized for its transparency and  fiscal responsibility. Currently, Orangetown has received the highest bond rating (Aa3) in its history by maintaining the lowest or next to lowest taxes in Rockland County's towns over the past five years. He's been a champion of open spaces and prudent development, and Orangetown remains the jewel among Rockland County's towns.
As you likely know, Thom has chosen to run for County Executive and is in a tough battle against an ineffective 16-year incumbent, C. Scott Vanderhoef. To replace him, the Orangetown Democratic Committee wholeheartedly endorsed Suzanne Barclay, Thom's long-time executive assistant, to replace him at our convention this summer.
Suzanne has a lead role for the Supervisor's Office on planning initiatives including the redevelopment process for 350 acres at Rockland Psychiatric Center, the development of Orangetown's affordable housing program, the implementation of the Route 303 Sustainable Development Study, and monitoring the planning of the Tappan Zee Bridge project. Suzanne is has a Master's Degree in City Planing and she has a long history of working for and with non-profits and giving a helping hand to the more vulnerable members of our community.  She's an irreplaceable asset in this town.
I find Suzanne to be one of the most thoughtful and measured people I know. I know her reasons for seeking the Supervisor's job are altruistic and sincere. She is not one who's driven by ambition; she is driven to do the right thing for the community. I've spoken to Suzanne about how many of us on the river feel separated from the rest of the town. She's assured me that she wants to do better job reaching out to the villages.
Her opponent, Paul Whalen, those he shares the Republican, Conservative, and Independence Party lines with, and their acolytes have recently make a mockery of our local political process. They tried to shut down an Organizing for America meeting in Pearl River, accusing the participants of being ACORN members and socialists. Later, they hijacked a Town Board meeting and slandered the Town Supervisor and Board. They shouted down and intimidated those that disagreed with them, forcing the police to intervene at one point. Whalen lied, even to the Journal News'€"which knew better and called him on it'€"in portraying an innocuous workforce housing measure as affordable housing and an attempt to "urbanize" Orangetown. Obviously, Mr. Whalen and his minions don't understand that politics is not the same thing as reality television and rule by mob is not democratic at all.
I look forward to seeing Suzanne assume the duties of Town Supervisor and not only continue the success of Thom Kleiner, but to help the town grow and prosper in new ways. Please support her and the other town candidates running on Row A on November 3.