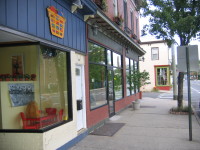 Main Street is the familiar, and expensive, real estate for retail in Nyack.  But just go a couple blocks away and it is a different story.  On the corner of Depew and Franklin is a store many Nyackers don't know about, but represents a true, home grown, success story.
The store is Trendsetters, which is aptly named for a corner which used to be known for less desirable activities.  Trendsetters has become an icon for the neighborhood (just a few blocks but has many residents), and is part of what might be Nyack's nicest grouping of retail stores and the only area that is improving.
This little noticed improvement is not a result of any initiative in Village Hall, but by local business and property owners investing their own money.  Trendsetters opened in January, 2008 by three, young partners who were born and grew up in Nyack: Spencer Boutin, Jason Alcin, and Gunther Arnoux.  They are all first generation Nyackers who's parents emigrated from Haiti.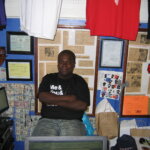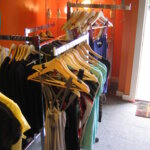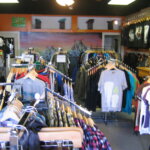 When you walk into Trendsetters you will notice immediately that the owners have an eye on how to lay out a store.   It has a hip and comfortable feel to it.
Co-owner Gunther Arnoux sums up their store like this:
"We have things that aren't at the mall.  We want to make new trends available for people.  We've been in Nyack all our lives, and feel we can help provide hope for the kids, and come together as a community.  We prefer not to be on Main Street, but want to show that we can make it in our neighborhood."
They have affordable to high end items, found at Internet Boutique websites or other small boutique shops. They also have some more common things you can't get away from, like Champion hoodies or NY Yankee hats.  They also sell more day-to-day products like CDs and tobacco.
The owners were considering opening a restaurant, but finally realized that investing right across from Nyack Plaza on this notorious corner was the best way to make a true statement for a community-based store.  Arnoux said that their store can show new possibilities for kids waiting for the school bus on Depew.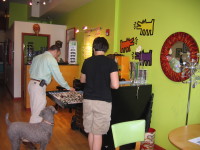 This micro-renaissance was started 8 years ago by Dr. Matthew and Danielle Watson, with their very successful store, Eyevolution.  Now they see the uncommon indicators of a successful neighborhood: the Parking Authority measuring car locations to issue parking tickets, and doggie poop-bag dispensers.  In fact, after all the private investment in the local buildings, the most run-down looking building, ironically, is the police sub-station. Local business owners would like to see the police give some attention to the aesthetics of their own building.  A simple power wash and some plantings would go a long way.
The local businesses feel a bit neglected.  They don't get any Christmas decoration, for example, even though they are one of the "gateways" to the Village.  Autos coming in from the westbound thruway come down Franklin.
So, when you are shopping for yourself or a gift for somebody else, try out Trensetters and support a locally grown business.  As Mr. Arnoux says: "We have something of everything here.  We can help find your true self here."