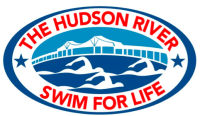 The deadline for swimmers, kayakers and volunteers to participate in the 18th Annual Hudson River Swim for Life is only days away. Over 200 swinners participated in 2008 raising over $200,000 for local charities.
The three mile event takes place on Sunday September 13 crossing the Hudson from Nyack to Sleepy Hollow. There will also be a  one mile swim option along the shores of Sleepy Hollow. Volunteers on land and in kayaks and boats are also needed.
Over the last 18 years the Hudson River Swim for Life has raised over $1.8 million for  local charities while helping rivertown communities connect with the Hudson and promoting swimming as a lifelong form of fitness.
The deadline for registration is September 9.
Source: Hudson River Swim for Life