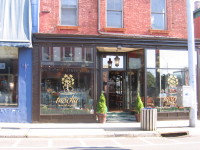 Tascha is Nyack's newest store, opening last Sunday at the corner of Main and Franklin, the old location of Playing Mantis.  It is an international coffee/tea house, specializing in Turkish coffee and tea.  It is the dream of Dr. Ali  Seckin and his wife Venessa.  Dr. Seckin was born in Turkey, and wanted to re-create an age old Turkish practice,  where people would gather under a tree, relax and drink tea or coffee.
You'll notice from the outside the beautiful treatment  to notice the interior, and as you walk in will be struck by a lavish and vivacious scene by renowned designer Fritz Krieger of Upper Nyack.  Dr. Seckin definitely invested some capital into his dream, and it is a much needed sign of new investment for Nyack.
Mr. Krieger said that in his design approach, he wanted to "bring an outdoor, international cafe inside."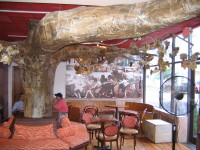 There is a paper mache tree in the center (made from international newspapers) and the walls are large, sepia scenes which are from current photographs.  The three Seckin children are in several locations.  It creates a unique experience, combining the outdoors with indoors.  It has an inviting feel as a place to hang out.  And, very importantly for us techies, it may be the only place in Nyack with FREE WI-FI.
Jeff Hazel, an employee, says that Dr. Seckin emphasized hiring people with cafe experience.  There are new skills to learn, like making Turkish coffee.  This is important in Turkey, because if you are Turkish, and want to get married, your mother-in-law-to-be must approve how the man makes coffee to allow him to marry her daughter.
The Turkish coffee is worth a try, especially if you like your java strong.  Don't mind the grounds at the bottom; that is part of the experience.  It is made in special, compact machines imported directly from Turkey.  The traditional method of cooking over an open fire was not feasible.  It is served in a lovely espresso-sized cup.  The tea will be served with open leaves in a lovely teapot, but they are still waiting on securing the best tea.
Tascha is also trying to be green, intending for its products to be as organic and local as possible.  The cups for ice drinks are 100% corn, all dairy products are organic, the coffee comes from Coffee Labs, an independent, local coffee roaster in Tarrytown.