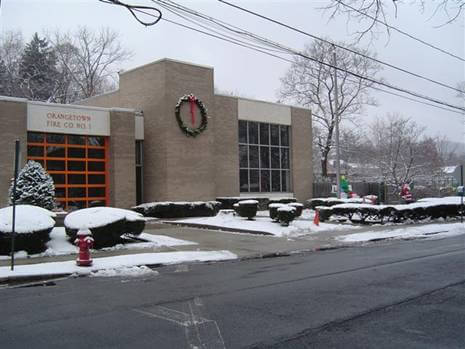 by Bill Demarest
Orangetown Fire Company No. 1 of South Nyack celebrates its 175th Anniversary with a parade on Saturday 10/3 at 2p to commemorate Rockland County's oldest continuously active fire company.
The parade will start on Midland Avenue in Upper Nyack and continue into Nyack on Midland, turning down Main Street to Broadway and ending at Cedar Hill in South Nyack.  Thirty fire companies from as far away as North Carolina have been invited to march with bands, fire trucks and other apparatus.
First organized on Oct. 4, 1834, Orangetown Fire Company #1 appointed 16 leading citizens of the community to be members of the company.  Many of their names can be found on local streets today including Smith Avenue in South Nyack (for Cornelius T. Smith, the Company's first Captain) and Nyack's Remsen Street (for Henry Remsen, the company's first secretary).
The company's original engine, on display at the Depot Place firehouse, was one of the first fire engines in Rockland County.  Legend has it that the 1749-vintage side-crank rotary engine was brought to this area by a peddler traveling from Philadelphia.
Until 1852, when Mazeppa Fire Engine Company, No. 2 was organized, Orangetown was the only fire protection for the Nyacks.  In 1863 the Nyack Fire Department was organized, consisting of the two original companies.  Today, the the Nyack Joint Fire District, established in 1998, oversees eight companies which protect Upper Nyack, Nyack, South Nyack and Upper Grand View.
See also: NYS Resolution Commemorating the 175th Anniversary of the Orangetown Fire Company No. 1