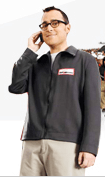 Verizon has added two new cell sites to the Rockland and Westchester which promise faster connections in Grandview and New Rochelle.
In Grandview, Grand along Route 87/287 and on River Rd. from Main St. to Station Lane.
New Rochelle on Route 1 from Echo to Beach Ave. and along Palmer Ave. from Rain St. to Shadow Lane.
Both cell sites are 3G capable which offer faster internet and video connections. The sites are part of a Verizon $50 billion network upgrade over the past nine years.
Source: Verizon Wireless