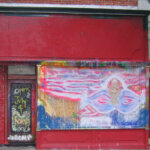 Nyack has reached an agreement with Romp Store owner Carol McIlmurray regarding three building code violations and a charge of operating a business without having connected the fire alarm system. The Romp Store defied Nyack's Building Department by repeatedly painting over the the facade of the Old Ben Franklin Bookstore at 17 N. Broadway without a permit.  McIlmurray continued to paint following a June 18 Architectural Review Board meeting when she promised to stop painting and clean the sidewalk.
Romp opened briefly on July 4th but has been closed since then. According to McIlmurray's blog, "When Romp opens we will sell everything a person needs to outfit their home and lifestyle. A shop that will be far from ordinary. We will to offer a unique and reliable way of life." McIlmurray told the Journal News that she plans to sell the window painting to an art collector for $30,000. "I will use the capital of the sale to invest in Romp Stores; a big business that will immediately create job and commerce across the nation" using a one day world wide auction to sell to the highest bidder.
The facade has been repainted a neutral color and the the previously paint splatter sidewalk has been cleaned. Nyack agreed to drop all charges except the fire safety violation for which she has 60 days to replace the window and connect the alarm system or pay a $1,000 fine. McIlmurray represented herself in court at the August 27th hearing, her third court appearance regarding the violations. She told the Journal News the least expensive lawyer she could find would cost five times more than her fine.
WCBS radio reports McIlmurray saying the sidewalk splatters were a "political statement" calling for Nyack to fix up its streetscape.
Although skeptical that she will follow through, the village is giving McIlmurray time to get her act together. Nyack Village Attorney Walter Sevastian told McIlmurray "we're giving you enough rope to hang yourself," adding that he would prefer not to phrase it in those terms.
Sources: Journal News, WCBS
See also: Romp Store in NyackNewsAndViews