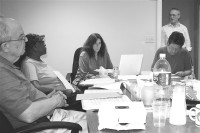 Should Nyack redevelop its downtown around a magnet facility like Riverspace? That's the topic tonight at Village Hall when the Mayor's Citizen's Committee (CC) presents its report to the Village Board on a "Superblock" development proposal.  The report details 14 critical recommendations and eight additional "other essential" steps to build the project.
The committee was formed as the Village's response to the Riverspace Downtown proposal. The CC will report its findings to the Village Board on Wednesday 8/19 at 7p.
The CC listened to several experts including those hired to do the 2002-2007 comprehensive plan and the 2007 parking study.  The result is a document that outlines the insights and recommendations of the seven expert consultants.
The Village Board has been awaiting the results of the CC since April, when it directed the Mayor to form the committee.  The resolution had an overly optimistic timetable for the CC to report back in 60 days (June).
The Superblock issue is poised to be a central issue in the Mayoral campaign. The resolution creating the CC was passed 3-2, with Richard Kavesh and Marie Lorenzini opposed.  The CC's recommendations clearly state that the Board act and devote resources to develop a Request for Qualifications (RFQ) and Request for Proposals (RFP).  Developing these two documents will cost at a minimum $50,000.  Hopefully the bulk of that money can be found from outside sources.
It will take considerable effort to find the resources to develop the RFQ/RFP, and given that Riverspace is paying $18,000/month to hold a dark theatre, there will be pressure to move expediciously.  The Board has been able to keep a wait-and-see attitude since last year, as it was first waiting for the "White Paper" from the public/private partnership committee, and now for the CC's report.  At this point, the ball is clearly in the Board's court to move forward, or not.
Some other interesting points that came out of the CC's report concerned the creation of a Business Improvement District (BID).  This is an entity that is formed within a specific boundary of the commercial district that can be used for Tax Increment Financing (TIF), a useful tool used to finance infrastructure projects.  It also is an entity that's purpose is to promote the commercial district.  The down side is that it taxes those properties within that district.
Another issue brought up by Steve Knowlton, Zoning Board of Appeals chair, is the current 20% affordable housing mandate in the zoning ordinance.  Knowlton says that the mandate has had the unintended consequence of discouraging affordable housing construction.  The report doesn't elaborate on Knowlton's rationale, but logically it be because the requirement is too high and thus discourages development all together.  The CC's recommendation is to keep the requirement but find a level that doesn't prevent development.
Source: Citizens Committee Superblock Report