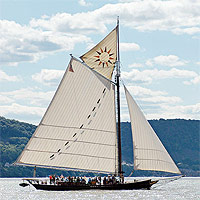 The Clearwater will drop anchor at the Nyack Boat Club from 9a to 6p on Sunday 8/9 as part of Nyack's Quadricentennial celebration. Come aboard for a tour of this replica of the majestic sloops that sailed the Hudson in 18th and 19th centuries.
Time specific free tickets are available on a first come, first serve basis at the p.ross shop at 89 Main Street in Nyack.
With it's impressive 106 foot tall mast,  the Clearwater was among the first vessels in the US to conduct science-based environmental education aboard a sailing ship.
This event is being sponsored by Friends of the Nyacks with financial support from Rockland Friends of Clearwater and Rockland County. The Nyack Boat Club is located 56 Gedney Street between 1st and 2nd Avenues in Nyack.