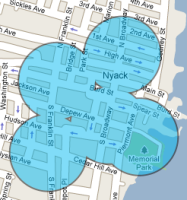 If you've got Cablevision, you've got free WiFi in downtown Nyack. The cable operator now offers free wireless Internet for smart phones and notebook computers covering most of Nyack including Memorial Park.
Cablevision is offering Optimum WiFi wireless Internet access in Rockland and Orange Counties to its Internet customers. Rockland hotspots are clustered around shoping, dining and commuting locations in South and Upper Nyack, Nanuet, New City, Pearl River, Spring Valley and Suffern. The service is also available at the Metro North train station in Tarrytown.
To use the WiFi service you'll need an Optimum Online username and password. Instructions on connecting from  mobile devices are available from Optimum Online's.
Rockland County studied and published a feasability study for a county wide WiFi system available to all residents last year.
Sources: Cablevision, Rockland County