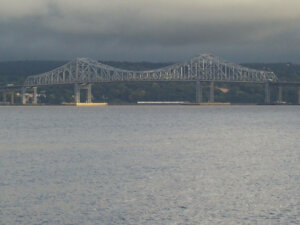 Last week, the History Channel captured the collapse of the Tappan Zee Bridge into the Hudson thanks to some stunning but silly CGI animation in the The Crumbling Of America documentary. Despite repeated voice overs saying that this isn't going to happen, people can watch the computer generated imagery and still wake up with nightmares. It's just the way TV works — and the way we are wired.
If you didn't happen to see the show — perhaps your version of reality TV is to spend more time in reality — the MidSeasonReplacements.com blog has a  clip of the animation plus some funny observations about the show, too.
Really, the Tappan Zee is not in danger of collapsing. The History Channel points this out several times, before and after their cgi animation of the Tappan Zee collapsing. Allow me to quote, '€œThe bridge is not about to fail, but some of the Tappan Zee's foundations are at risk. And this what could happen if they gave way.'€ So it won't collapse, but we'll show it collapse, and talk about how it could collapse, just before we assert that it won't collapse. Are we clear?
Source: MidSeasonReplacements.com
See also: TZB Environmental Review