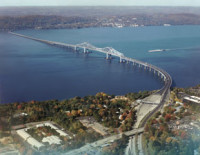 Local officials met on Tuesday evening, by special invitation, with officials from New York State Department of Transportation.  Nyack Trustee Richard Kavesh called the meeting "informative."
Officials were shown multiple alternatives: one deck, two decks, multiple sections, etc.  Present at the meeting representing Nyack were Trustees Denise Hogan, Richard Kavesh, Marie Lorenzini, Louise Parker, and Zoning Board of Appeals (ZBA) Chair Steve Knowlton.
The Tappan Zee Bridge/I-287 Corridor Project issued a  Scoping Summary Report in May summarizing the results from the alternatives and analysis methodologies used in preparation for the Draft Environmental Impact Statement (DEIS). Public and agency comments are also included in the report.
Although the project has support from most community leaders, not everyone is on board. "The plans currently on the table will be the greatest disruption to this area since the TZ Bridge was originally built," says George Sherman and Sherwood Chorost, editors of The Concerned Citizen, a publication which opposes bridge construction.
'€œThe Tappan Zee has become the quintessential 21st-century planning dilemma,'€ City University civil engineering professor Robert E. Paaswell told the New York Times.  '€œIt's a 50-year-old bridge beyond its design life. And the community around it has grown so developed and complex that there are real questions about whether people can agree on how to replace it.'€
See also: NYT, Tappan Zee Bridge/I-287 Corridor Project