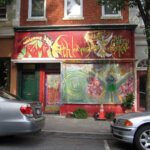 Carol McIlmurray's Romp Store has moved to the next stage: court.  Last Thursday Ms. McIlmurray was in court in Nyack to appeal four charges on two appearance tickets.  She pleaded not guilty on all counts.
One ticket was from the Building Department, the other from the Fire Inspector.  No action was taken, so that Ms. McIlmurray has time to get legal representation for the next court date, July 30.
The four counts are as follows:
Building Dept count 1 — The storefront was painted without approval from the Architectural Review Board
Building Dept count 2 — After the June 18 ARB meeting, painting continued, the sidewalk was not cleaned, and agreed-upon documents were not submitted.
Building Dept count 3 — The store was not kept in a clean condition
Fire Inspector count 1 — The store opened on July 4 without a certificate of fire compliance.
The Romp Store opened on July 4 at 3:33pm and has been closed since then. The exterior painting, however, has continued.
McIlmurray told the Associated Press that the sidewalk "paint splatters were a political statement [which were] calling for Nyack to fix up its streetscape." However, this contradicts statements she made to the ARB last month when she promised to clean the sidewalk.
Meanwhile, Ms. McIlmurray continues to deal with the permitting process.  She is scheduled to go in front of the Architectural Review Board this Thursday, presumably to explain why taking out the window is not possible.
If you want to read the actual court appearance tickets, click here.
See also: Associated Press, Journal News