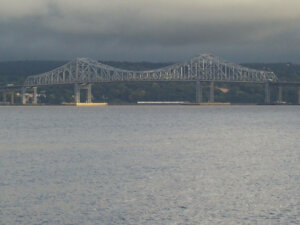 New York Senator Kirsten Gillibrand has included a new Tappan Zee Bridge on a list of 61 priority NYS infrastructure projects. Gillibrand has specified $6 billion dollars for the design and construction of a transit-ready replacement TZB.

Gillibrand's plan to invest in New York infrastructure calls for immediate upgrades and long term funding mechanisms for roads and bridges including investments in broadband access and health information technology. The list was created after hosting economic development roundtables with local elected officials and business leaders to discuss how to grow local economies and the need for long term investments in infrastructure. Gillibrand says Federal Stimulus Money is not involved in any of these projects.
In addition to a new TZB, the 61 priority projects include $20 million for the MTA's North Shore Rail study,  $150 million dollars for North Country Highways, $8 Million for the Adirondack Rail Rehabilitation Project from Utica to Lake Placid and just over $3 million to improve roads at Plattsburgh International Airport.
Source: WAMC, Albany
See also: Local Officials Hear New TZB Plans, 7/24, Gillibrand.Senate.gov