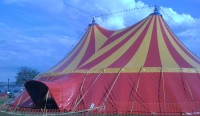 For the first time in over 100 years, a live elephant will parade down Nyack's Main Street on Saturday, July 25th at 10am to kick-off the two and half week celebration of the 400-year old Hudson River discovery and the 200-year birth of the American Circus as part of the "Circus-in-the-Park Extravaganza."
Amazing Grace CIRCUS!, the region's only year-round children's and youth circus, will present a Circus-in-the-Park Extravaganza! July 19 – August 2 at Memorial Park in Nyack under the beautiful Cirque du Soleil-like tent.
Over 5,000 people are expected to fill the streets of Nyack during this two-week run, billed by the co-founders of AGC! as 'a community event like no other…an antidote to the economy…fun and entertainment for the whole family at a reasonable price.'
The AGC! Youth Troupe, a circus company of 13 teenagers from Rockland and Bergen Counties, will perform on the weekends and lead the Old Tyme Circus Parade Down Main Street on July 25th.
Nyack's Mayor Shields and Rockland County's Chairwoman of the Legislature, Hon. Harriet Cornell, will be co-Grand Marshall's of the Parade AND co-Guest Ringmasters in a Ribbon-Cutting Ceremony in AGC!'s tent.
Tickets to all circus events are on sale at the Riverspace box office.
See also: Journal News, 7/17, Amazing Grace Circus