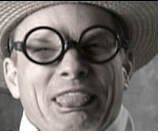 Bill Irwin is the special guest artist at a 7/31 gala benefit for the Amazing Grace Circus. Nyack resident Irwin is a director and Tony award winning actor who has been called "America's Favorite Clown" for his contributions to the renaissance of American circus.
Showtime is 7:30p at the Cirque Passion Tent in Memorial Park with "pre-show comestibles" at 6:30p.  All seats are $35 available at riverspace.org. Proceeds will benefit AGC! '€œKidz2Camp'€ scholarships and '€œKidzTix.'€
For more information visit www.amazingcircusinthepark.com or call 845-721-5059.
See also: Wikipedia,  Bill Irwin, Clown Prince (2004 PBS Special)