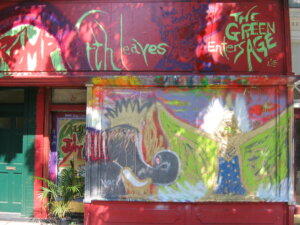 The Romp Story continues — from the Journal News to local TV stations.  It is one of those irresistible themes for the media, like chum to sharks, mixing a grand David vs. Goliath concept with mud wrestling.  Looking at the Nyack Social Scene list serve, or the letters in the Journal News, it is clear that there is some misunderstanding about the regulatory process, and a local government's authority.  Unfortunately the media reports on the drama, but not the underlying facts.
What are the likely outcomes of this situation?  Most likely it will end up in court.  Ms. McIlmurray has until July 1 to submit a written explanation on how she will restore the exterior to its original condition, with the exception of a possible color change.  This was mandated by last week's Architectural Review Board's meeting.  If she doesn't comply, then she will likely get served an appearance ticket by the Building Department with a date to appear in local court.  The next court date for Building Department cases would normally be July 30, but Village Attorney Walter Sevastion, who would act as prosecutor for the Village, says it could be moved to July 7 or 9.
At that point Ms. McIlmurray would either appear in court, with or without an attorney, or skip it.  With all this publicity, it is likely she will get offers to be represented at no cost.  The court can impose monetary fines, which could be as much as $250 per day.  That adds up fast.  The court will likely give her a conditional discharge, which means she will have a certain amount of time, like 2-4 weeks, to restore the facade.  If she fails to do so, she would be in contempt of court.
That is the legal process she is likely to follow if she does not restore the storefront.  As of today, she has submitted colors she would like to paint the store, and has had a conversation with the Building Department about the restoration process.  She has apparently talked with a contractor.
And, despite several orders to cease work, more painting has occurred.  The angel's wings have turned green.
Perhaps the most perplexing thing in this whole circus (the theme of the store's art), is that the property owner has not intervened.  Harold MacCartney will be likely be help responsible to pay the many thousands of dollars due to the Village, if Ms. McIlmurray is unable or unwilling to pay.  It would end up as a lien on the property,  or would be due before any future tenant gets permits to run their store.  For some unknown reason he is not protecting his own economic interest.
The bottom line is that the store front needs to be restored to its original condition.  If the tenant does not comply, the property owner will be responsible.