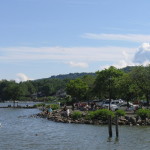 It appears the public will soon be able to enjoy an alcohol-free, poop-free,  and smoke-free Memorial Park.  Dog owners can no longer let their pets run off leash, and now it looks like smokers will be prohibited from lighting up at Memorial Park.
One of the agenda items at last week's Village Board meeting was to modify the municipal code and add to the the top of the  list of prohibited acts in Memorial Park: "Carry or possess any lit tobacco product." (see proposed law)
The Board reviewed the draft law and will hold a public hearing on July 9.
According to Trustee Richard Kavesh, the resolution is likely to pass.  He also supports banning smoking in Veteran's Park, which doesn't have strong Board support at this point.