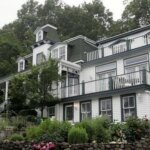 Foreclosure is a sad event no matter what, but yesterday's auction of Stephen Baldwin's home in Upper Grandview is a bit surreal.  First of all, foreclosure isn't the first issue that comes to mind when thinking about movie actors or Victorian houses in Upper Grandview.
Baldwin bought the house in 1997 for about $500k, and has been trying to sell it for years for $3.4 million, which didn't find any takers even in the hot 2006 market.  Apparently the property was threatened with foreclosure even back in 2006.  Why they didn't drop the price a bit to sell it (at a nice profit) is not clear.
I wasn't aware of the proceeding until a TV crew from Channel 12 news was walking around downtown Nyack asking for reactions to the event.  It was tough going since few people wanted to comment.