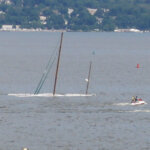 One of the moored sailboats at the Nyack Boat Club sank on Thursday night.  There were thunderstorms, but there was no evidence of a lightening strike, said the Boat Club's caretaker, Vince Landers.  The cause of the sinking is a mystery.
If anybody was under any illusion that Nyack has deep water, they only have to look at about 2/3 of the masts sticking out of the water to see that it isn't very deep.  The average depth is six or seven feet.
That is good news for the unfortunate owner of the lovely yawl, who has a chance to recover his boat. Apparently the insurance company is having a barge come in the next couple of days to hoist the boat out of the water.  Sometimes they inflate giant bags in the cabin to lift the boat to the surface, but the keel is so stuck in the bottom muck, that would probably rip the deck right off the hull.
The boat has been sealed to avoid oil and gasoline leaks from the engine.  That is why the boat is encircled with white floats.  The DEC takes leaks very seriously, and it results in a steep fine to the boat owner.
"Maybe the owner will consider a fiberglass hull next time," Landers said.
See Also: Journal News, 6/16/09