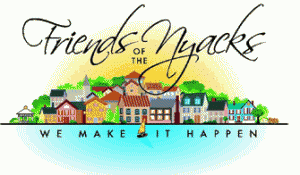 Summer is here!  The Friend's of the Nyack's Summer Concert Series starts this weekend.  The kickoff event will feature Danna Banana and The Nyack High School Jazz Combo.  The season's calendar can be found here.
The series is now  on Sundays at 5:30pm, still at Memorial Park.
Below is The Friends' email:
Enjoy free summer fun and great music while you view the mighty Hudson River! Join us at our
Mostly Music Concert series produced solely by Friends of the Nyacks. This year's concerts will be held on Sunday afternoons in Memorial Park as part of the Quadricentennial Celebration. Bring the family, a picnic basket, a few lawn chairs and come to the park for a wonderful community summer event.
The concerts are the result of the hard work of just a few devoted volunteers and we could use your help. Sign up even for just an hour or an evening by clicking on '€œcontact us'€ at our website at www.friendsofthenyacks.org. Though the concerts are free to the public, funding for these and future Friends of the Nyacks'Mostly Music concerts is needed.
Send contributions to:
Friends of the Nyacks, P.O. Box 120, Nyack, NY 10960.
Keep the music playing! Help us make it happen!
CONCERT SCHEDULE:
Sundays at 5:30pm in Nyack's Memorial Park
DATES:
JUNE 28, JULY 5, 12, 19, 26,
AUGUST 2, 9, 16.
Performers and rain location to be announced
at www.friendsofthenyacks.org.