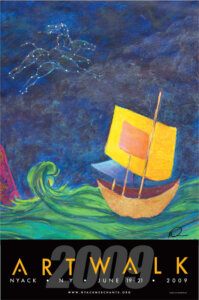 Nyack kicked off its 4th annual art walk at Riverspace last evening. About 70 people attended the event, which included speakers and the unveiling of John Beerman's original oil painting '€œHalf Moon'€.  The painting will be gifted to President Obama in September by the American Heritage Rivers Alliance.
The Art Walk, sponsored by the Friends of Nyack's Merchants Committee,  includes 27 local artists which will be hanging in 27 different stores in downtown Nyack.  There is a directory of the participating stores.
Click Here for more information from the Merchant Commitee's website.  The event will go until Sunday evening.