Carol McIlmurray was out finishing off her storefront this morning, despite a cease and desist notice from the Building Department (after hours last night) with the threat of arrest.  She feels ready for her big hurdle this evening, a hearing in front of the Architectural Review Board (Village Hall at 7:30pm).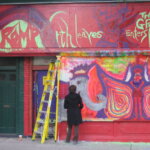 Carol says that the storefront is temporary, which allows her to do it without a permit, and that she will sell it.  That's right, her storefront itself is a piece of art for sale, and she will have the huge pane of glass removed to whomever has a wall big enough to hang it (please use professionals).
You can say what you think about the aesthetics of the storefront, there is no question that Carol has built an awareness of her future business, even if people don't know what it is.  The Journal News will be attending this evenings ARB meeting, there are lots of postings on Nyack Social Scene, and nobody can walk by the store without pausing to take note
The artwork seems to change dramatically by the day.  "It turned out circus-like.  I didn't plan it to turn out like this, I may have been picking up the energy", McIlmurray says .  The elephant appeared in the last day.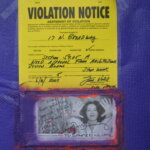 The whole process of this store seems to be an organic process.  McIlmurray moved from a rather modest piece of artwork to an entire storefront.  The Village didn't seem to catch on until the last few days, weeks into the process.  A violation notice last night is a bit "too little to late".
Nobody knows how this will end up.  Tonight's meeting will be interesting.  Who knows, maybe this will get national coverage, maybe somebody will buy the storefront, maybe this will be a model for start-up storefronts.  Maybe this will be in the Harvard Business School textbooks as a guerilla marketing tactic.
All McIlmurray has built awareness of her store.  If she gets through the approval process, all she has to worry about is starting a store.  Retail is a tough business.