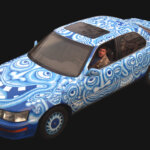 Andy Golub is a local artist (South Nyack).  You may have seen his art drive by in the form of his custom painted Lexus.  Or maybe you have seen his trademark "blue faces" paintings on his primary medium: the human body.  He may be a simple artist, but now finds himself embroiled in a first amendment struggle with New York City's Police Department.
Several weeks ago he was painting models (in G-strings) in a newly opened Times Square and asked to leave by the police. After 45+ minutes of negotiation, he opted to leave, but went home and retained an extremely prominent Arts/1st Amendment attorney.
A letter was sent on his behalf. He went back the following weekend and was allowed to paint without incident. Last Saturday, he was harassed again. More than anything, he wants to be allowed to paint in peace, but now finds himself grappling with the grander free speech issue.
He will be painting 20+ models at the Mermaid Parade in Coney Island this Saturday and will return to Times Square this Sunday.
Stay tuned since this is an unfolding story.  There is an obvious parallel with Nyack's Romp Story, with on-the-street art clashing with local ordinances.