The annual GAGA Festival last Sunday in Garnersville opened the warren of pre-Civil War factory and industrial buildings to share the alleys, stairways, tunnels, galleries, workshops and studios of dozens of artists with the public.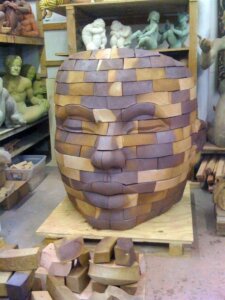 This was more than an "open studio" day.  There was a fantastic assortment of sculpture, paintings, video presentations, photos, jewelry, metalwork, and more.  Climbing long the stairs into the depths of an old industrial building feels comfortable for me — I've spent much of my business career in and out of factory buildings.  But there has seldom been the surprise reward of such wonderful artwork.
In most of the studios and galleries the owners — the artists — were there, discussing their work and creative approach.  And the visitors were having fun, viewing the artwork in this huge "open museum," and listening to live music under tents in the light rain.
For more information, visit GAGA in Garnerville.
–Roger S. Cohen