Nyack, April 1:  It's official. The Nyack mayoral race has gone to the dogs. Murphy Zornow has decided to run for public office.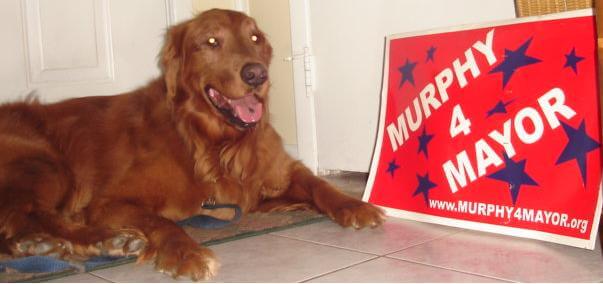 It seems like the past 12 months in Nyack could have been The Year of The Dog with canines taking to the streets on issues from the controversial No Swim Zone at Memorial Park to a proposed dog run in South Nyack. Candidate Murphy says the time is right for this population to vocalize their concerns.
Here's the Big Dog's position on the village's big issues:
Nyack's proposed budget: Murphy supports canceling the annual fireworks displays on July 4th and New Years Eve (he doesn't like loud noises).
Riverspace: Anything that brings more people to town to admire, scratch and pamper the village pets is a good thing. But if we can build it without any noise, that would be better (he doesn't like construction noise, either).
Streetscape Beautification: The Canine Crowd favors sweet smells and interesting patterns on the sidewalks. But don't forget to add dog drinking fountains.
South Nyack Dog Park: The paw people of Nyack say "I Want My Place-To-Pee!" Read his

position paper

from last year.
Noise Ordinances: Granted, Rock and Roll will never die, but old dogs need their quality sleep. If elected, Murphy would extend the noise ordinance, to start at 12am through 11:59pm the following day.
New Tappan Zee Bridge: Because dogs were never consulted on the design of the current TZB, there's no path to Tarrytown to sniff around in the Far East. Murphy will support the new bridge if there's a walkway for four-footers. And make it wide enough for bikers, too (cyclists are fun to bark at).
Bank Handouts: He's in favor of bank handouts – especially the dog treats they hand out at  HSBC.
New Memorial Park: More open space is a good thing. And regarding a dedicated baseball field – dogs have ways of marking fair and foul without drawing white lines. Why can't humans do that too?
Murphy wishes the best to other declared candidates for Mayor and the Village Board. He looks up to all of you, along with most of the rest of the other bipeds in Nyack.