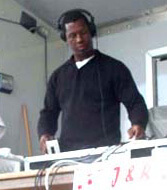 Nyack is filled with people with fascinating stories.  Joe Wells is a native Nyacker, and works in the City driving a truck during the week for his main living, but has his own business doing what he loves.
He is the co-founder of J&R Entertainment, and has been the center of entertainment, as disc jockey and master of ceremonies, for hundreds of parties in Rockland, Westchester, Northern New Jersey, and New York City.
Joe has been a disc jockey since 1985, and his current business has done very well, working for some big events like a fund raiser at the Waldorf Astoria for Boomer Esiason's foundation, which fights cystic fibrosis.
When you talk with Joe, you can feel his passion for what he does. It is clear he aims to please, and says he "has more music than Best Buy", and doesn't make people wait on requests, and does not play music too loudly, a common error in the business.
If you are planning an event and need music, definitely check out J&R Entertainment.