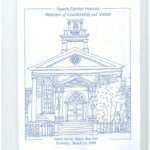 Nyack Center held its fifth annual event honoring "Women of Leadership and Vision".  The event is a fund raiser for the Center.  It was a veritable who's who of local politics, proving the strong community backing for the Center.
The EmCee was school Superintendent Valencia Douglas, who gave a powerful and heart felt introduction to the event.   Also included was a reading by poet Julie Agoos and a musical performance by the all woman singing group Ciela.
The six women who were honored were Gail Golden, Jan Haber, Claudette Jimerson, Florence Katzenstein, Jen Laird-White and Jane Sherman.  The Center has promised to pass along details on each of the honorees.
Each honoree received an introduction from a different woman.  The following are Ellen Jaffee's (our Assembly member in Albany) notes for her introduction for Jen Laird-White:
————————————————————————————-
Good Morning sisters.
I am so pleased to join you as we honor a distinguished group of women;
Women of Leadership and Vision:
Claudette Jimerson, Gail Golden, Florence Katzenstein, Jan Haber , Jane Sherman and of course,
Jen Laird White.
Extraordinary Women, doing extraordinary things, changing the world for the better, every day.
Jennifer Laird White deserves this honor because of her leadership and what she's accomplished in such a short time in Nyack. Jen was one of the Founders of the Nyack Park Conservancy, serves on the board of Riverspace and the Nyack Park Commission.
For years everyone knew Memorial Park needed a face lift. Jen actually went out, raised the money, continues to raise the money, got the plans drawn up, gathered support and now this transformation is going to happen.
To hear Jen describe the project–is a journey. And says so much about the woman she is.
Jen's excitement about a re-imagined Memorial Park is infectious. She came to my office–and by the time she left– I was passionate about moveable outdoor furniture. Nothing on earth was more important than tables and chairs that could be stored each evening. I couldn't wait for the snack shack by the river.
Jen has breathed life into this project. I can visualize my grandchildren in the revamped children's play area. Or see myself sitting on a summer afternoon on the steps that will border the river and gazing at the spectacular river scenery.
The Memorial Park plan is metaphorical. It's about who Jen is. Yes –she's a great mom, and a wonderful partner for Richard, a good friend to so many who are here today, but her public self as expressed through this project is huge.
The Memorial Park redesign reflects Jen's expansiveness, the visionary spirit that will change the face of Nyack.
Underneath it all, lies Jen's understanding of the value of a true public space–not the food court at the mall–but a place where we all–babies, children, mothers fathers, grandparents, teens, singles, seniors– from all walks of life–converge. (As we do here in the Nyack Center.)
The Memorial Park plan reflects Jen's vision of community. Public space –and I'm not over-dramatizing-embodies the very American tradition where people for centuries have come together to express themselves and exchange ideas. It has been seen has an integral part of our democracy.
As we've evolved, those spaces in suburban areas have become all too scarce. We have become isolated.
Jen has done nothing less than to realize the need for connection and has done the hard work to make it happen.
Jen's enormous spirit has infused into this project to create a vibrant communal place where we will all interact. That's who Jen is. A woman who understands the need for public interaction and who has the ability to create the plan that will make this happen.
We should reflect on the enormity of Jen's view and how it will impact this community for years and years into the future.
And add to that vision, the tremendous energy and the actual ability to get the job done, the nuts and bolts of seeing the project through. I mean every aspect-
She does it all. How impressive is that!
I am thrilled to join you in honoring a PHENOMENAL WOMAN: JEN LAIRD-WHITE