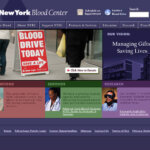 I got a friendly call from a woman named Sue today, who lives in Michigan, but is part of a call center for New York Blood Center.  Giving blood is one of those things a lot of people think is a good idea, but it never gets to over the threshold of being easy/convenient enough to do.  And there is the subtle fear about giving blood.  But it is an incredibly satisfying experience of doing your part, which only takes about 45 minutes out of your day.
Some hard core blood donors make it a matter of honor to say they give blood every 56 days, the required minimum time between giving.  But if you are 17 or older (16 with parental consent), then think about giving.  There is always a strong demand for blood.
But giving blood is important, and helps the New York Blood Center supply 200 hospitals with critical life saving blood products.  Read on for local opportunities to give blood in the next month:
The next two local opportunities are April 14 at Nyack College, and April 15 at the Nyack Hospital.  To schedule an appointment, or get more information, call the NY Blood Center at 800-933-2566.
Below are some photographs taken by Chris Herder (Chris Herder Photography) during the last blood drive in front of Riverspace:
[imagebrowser id=2]