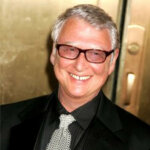 Nyackers enjoyed an open conversation with Mike Nichols and Elliott Forrest at Riverspace.  It was an evening reminiscing his long list of legendary films including "Who's Afraid of Virginia Woolf", "The Graduate", "Catch 22", "Carnal Knowledge", and many more.  And of course the plays he directed including "Barefoot in the Park", "The Odd Couple", "Annie"….
Nichols knows how to engage a crowd while giving long and thoughtful responses.  There was one moment, however, where time stood still and the audience gasped.  It was both uncomfortable and perfect.  Nichols was talking about acting in plays, and how "anybody" could play a role in a great play like Viginia Woolf, "even Kathleen Turner".  Of course 50 feet from him in the audience was Nyack's Bill Irwin, who played across from Ms. Turner in that production.  Oops.
It was strange to think of so many of the amazing people who have come to Riverspace, and how much inter-connection there is.  For Virginia Woolf, playwright Edward Albee has been there with Bill Irwin, and Kathleen Turner (I respectfully disagree with Mr. Nichols.  I saw her with Bill Irwin and she was great).  Meryl Streep, who has been in several of Nichols' movies, has been to Riverspace.
Congressman Eliot Engel's plane was delayed, so he was unable to introduce the event, but he did come on stage after and gave his strong support for Riverspace and his promise that he will fight to bring some of the Stimulus money to support the theatre.  He said some touching words about Mr. Nichols.
Diane Sawyer was also there in the first row.