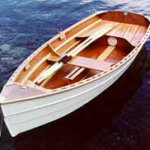 Chris Brennan is a man with ideas, and one of the few people who actually builds things for a living. And he does it in Nyack. He is a custom boat builder, and has a vision to bring back Nyack's and the Hudson River's glorious boat building past.
He grew up in Yonkers right along the Hudson River.  After leaving college 13 years ago he became a carpenter, which evolved into woodworking. He was always interested in boats and boating, and the combination of his woodworking and interest in boats led him to build his own boat, despite lack of any experience. He built a 16′ canoe. He caught the bug, and he called up a few boat builders. A local builder, Mike Marino out of Piermont, hired him as an apprentice.
Chris worked with Mike on and off for seven years. About two years ago, Chris decided to start out on his own and started Brennan Boatbuilding. He started working out of his garage in Ossening, building a few boats. He moved to Nyack about a year and half ago and started his own business on Main Street, next to the firehouse, for a year. He lacked proper space and access for boats, so he decided last December to move to the "Pavion" building on 60 Cedar Hill, where he rents about 1000 square feet.  He loves it there.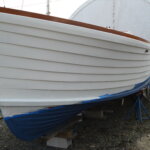 Chris  would prefer to build new boats, but he does renovations to help pay the bills. He builds rowing skiffs, dories, small day sailers, small power boats. Chris went to naval architecture school, West Lawn in Stamford, CT (now in Mystic), to learn about how to design and build small boats.
He is currently restoring a boat for a trustee at Mystic Seaport, which is an historic oyster bay tender. He wants to take the lines off the boat, which may be the last of its kind, and come up with plans for it to ensure that the boat can live on.
Chris is trying to garner support to construct another Hudson River sloop, smaller but similar to the Clearwater and the Woody Guthrie. This would be 20′-25′, a common size for the 19th century. These would have been 2-3 person boats carrying goods or people. He will be working on the Woody Guthrie soon, fixing the bottom.
It's hard to find a good location for his boat building business. Shorefront property is now expensive and residential. And industrial properties are disappearing.
He is also interested in starting a community boat building program. There is a resurgence in wooden boats. Boat building is a great hands-on training for math and history, which can be more powerful than learning in books. Nyack has a history steeped in boat building that doesn't exist any more and he wants to bring it back. A lot of Hudson River sloops were built in Nyack.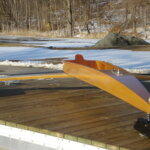 He wants to connect more with the local clubs like the Nyack Boat Club. The club does a lot of class boat racing, and it would be great to have a racing program with Hudson River traditional boats.
He recently built an ice boat, and wanted to race it on Rockland Lake, but there wasn't ice on the lake. Apparently the wind from the storm kept the lake from freezing. He built it on spec, and is still looking for a buyer.  He is going to put it up for sale on EBay, so if you are looking for an ice boat that can reach speeds of 50 mph, now is your chance!