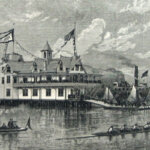 RRA Annual Gala
Saturday, Feb 28 5pm – 8pm
River Club, 11 Burd St.
Meet Olympian David Banks. David will discuss his experiences in Beijing and talk about his involvement with '€œChanging the Tide – The Challenge and Opportunity of Rowing Outreach'€ – US Rowing's program to promote rowing among minority, low-income and other communities not typically exposed to the sport.
Whether you '€œPulled With Purpose'€ at our charity ergathon to benefit the Nyack Center and need to refuel, or whether you simply want to support the River Rowing Association, come join us for a gala at the River Club at the foot of Burd Street in Nyack, NY. The RRA Annual Gala is a fund-raiser to benefit the RRA and it's many community rowing programs.
Find out about our plans for expanded community outreach learn-to-row programs, our new adaptive rowing program and our plans for a boathouse! Cost is $40 per person at the door or $30 per person if you pay by Feb 21. Kids under 13 are half-price. To purchase dinner tickets:
Your name will be on a list at the door.