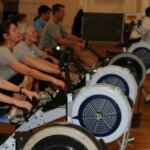 Pull With Purpose Charity Ergathon
Saturday, February 28, 2009
Register for our Third Annual '€œPull With Purpose'€ Charity Ergathon, which will once again benefit the Nyack Center. Last year we raised over $6000 to support the Nyack Center's many fantastic community programs. To participate, please register your team of 5 (or more) rowers, download Pledge Sheet, collect pledges and then meet at the Nyack Center at 9:30am on Saturday, February 28th ready to '€œPull With Purpose.'€ Only 5-person teams are eligible to compete in for the Pull With Purpose trophy. Register soon, as space is limited!
The format requires team members to tag-team row on an indoor rowing machine (Concept II erg) to row as many meters as possible over a two-hour period. We will also be selling raffle tickets, with many great prizes.
To see a recent (January 12, 2009) Journal News article about the upcoming event, click here