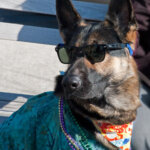 Who says Nyack is no fun!  Mardi Gras is in full swing.  Saturday was the scene of many wacky activities, including the dog masquerade.
The winner was an exceptional dog named Goliath, who apparently wore those shades for two hours without flinching.
(photos by Arnold Roufa)





The Mayor and many others brought their dogs, but were no match to Goliath.