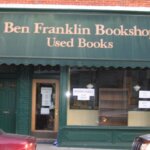 One of Nyack's mainstay stores has closed.  Below is a posting on the Nyack Social Scene.
————————————————————————–
You may have heard that the Ben Franklin Bookshop has closed. It's true.
You can own one of their beautiful bookcases, available in two sizes: seven
feet tall, or five feet tall.
These shelves sell new, with shipping, at
above $300. This weekend only, the seven foot shelves are available at $75,
the five foot shelves at $50. You can pick through the trim for free if you
buy a case. Call Michael at 358-0440 and leave contact information if
interested –or drop by the shop. Please don't delay –the cases will be
knocked down if they don't sell. –And thank you, loyal customers, it's
been a great 30 years!
–Michael Houghton, owner, Ben Franklin Bookshop