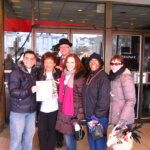 It was still chilly, but 10 restaurants came out to flaunt their gumbo making prowess at Nyack's 2nd Annual Gumbo Cookoff. As Nyack's Mardi Gras winds down tomorrow, people came out to taste some northern versions of cajun cuisine.
Defending champion Bourbon Street was unable to repeat with the panel of judges, as the freshman Velo pulled an upset.  Bourbon Street did tie the Hudson House in the popular contest, voted by ballot by all those who came by to taste.
It couldn't of hurt that Velo was able to keep their Gumbo the warmest.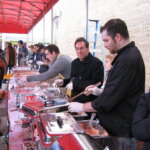 The spiciest contender was Black Bear, the author's personal favorite.  Other contenders were Reality Bites, Nyack Gourmet, Casa Del Sol, Old Fashion Restaurant, Manna Cafe, and O'Donoghue's Tavern.