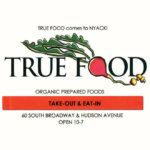 New food choices have come, and are coming to Nyackers.  On December 1, Pamela Schulz opened True Food's second store (the first in Chestnut Ridge) at 60 S. Broadway on the corner of Hudson Ave.  True Food shares the space with a clothing consignment store, so you can grab a bite to eat while you look at some clothing.
True Foods focuses on organic and local (whenever possible) foods.  They have prepared foods, made in the Chestnut Ridge kitchen, that are healthful and time consuming to make, which you can pick up after work.  Their hours are 10am to 7pm, hopefully late enough to grab some food after work.  They are planning to open early for breakfast.
Pamela says that business has been solid since she has opened, despite the troubled economy.  People still need to eat.
I tried their chicken salad and German Sourdough Bread and they were fantastic.  The foods are either from their kitchen or from local providers, many of which sell at Nyack's Farmer's market.  The food will cost more money than the supermarket but it is organic, fresh, local and very tasty.  They try to keep all their food affordable.
They sold food this last summer at Nyack's Farmer's Market.  They plan to expand to Piermont and others this next summer.  They built a following and many customers said they didn't want to go through the winter without them.  Now they will get their health fix all year long.