Local officials will speak out against the MTA's proposed June increase in fares for trains, tolls, buses and subways on Friday morning at the Metro-North station in Pearl River.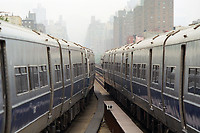 Rockland legislators including Sen. Thomas Morahan, Assemblywoman Ellen Jaffee,  Assemblyman Kenneth Zebrowski and officials from Orange County to draw the public's attention to the possible 29 percent commuter fare increase. Tarrytown commuters would see a 27 percent increase in monthly passes, from $221 to $281.
More information on the February 2 public hearings in West Nyack is available at www.mta.info.
Source: Times-Record, MTA
Photo Credit: J Glibert, RailPictures.net