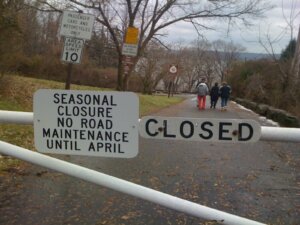 Planning to get out of the house for a visit to Nyack State Beach Park and a casual stroll along the Hudson? Walkers are still welcome at Hook Mountain, but cars — not so much. That's because there's a barrier just past the guardhouse keeping cars out of the lower parking lot.
Budget cutbacks are the culprit, according to NY State Parks department. They don't have the manpower to plow or police the area. So it's officially off-limits until April.
Governor David Patterson mandated cuts to 75 state parks and historic sites last spring resulting in a hiring freeze, shorter hours, increased user fees. And in the case of Nyack Beach State Park, seasonal closings. It's part of a goal to reduce operating expenditures by 10 percent.
Walkers can still step around the gate and walk down to the path. The challenge is finding somewhere to park. According to the parks department, the police will ticket cars that block the circle. And you will need to walk quite some distance to find a section of North Broadway in Upper Nyack that allows on street parking.
Source: NY State Parks, Journal News