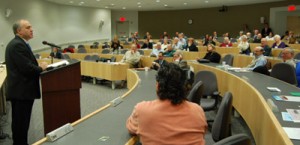 On Friday State Comptroller Thomas DiNapoli vowed that the State would find a way to continue with the Tappan Zee bridge replacement, despite the fiscal crises. 
DiNapoli addressed a group of public officials, business leaders, and concerned residents Friday at Rockland County Community College to discuss the project's future, and its affect on the regional economy.
Al Samuels, president of the Rockland Business Association, said the project could not be delayed. 
'€œSomehow the federal government created $700 billion for certain segments. Money can always be found. It's just a matter of getting to the right people and making the right case,'€ he said. '€œThe Tappan Zee Bridge is a structure that will ultimately be unsafe.'€