As regional transportation officials begin to plan for the new Tappan Zee Bridge, Rockland historians are looking backwards — searching for people who remember a time before the bridge.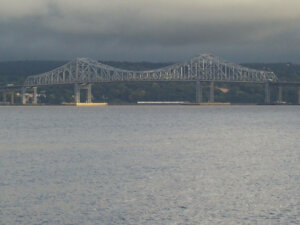 The Piermont Library is looking for people who have memories of life in Rockland before the bridge as part of a quadracentennial project sponsored by the Historical Society of Rockland.  The library is collecting oral histories with people who were around when the bridge was built and can help reconstruct how the Rockland has been changed by being connected to Westchester. They are also searching for artifacts of the period which would be suitable for exhibition.
If you can share stories, pictures, postcards, newspaper clippings and/or other memorabilia, contact the Piermont Library at 845-359-4595.
Source: Piermont Library