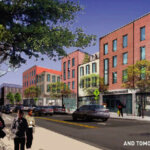 This last January, the Chamber of Commerce set up a Parking Task Force to investigate and report on the feasbility of a downtown garage to the Village Board.  The Task Force has met approximately monthly and has brought in various experts in its quest to understand the alternatives and their impact.
The Task Force is in the process of finalizing its report and will be submitted to the Village Board in the next couple of months.
A complication is the issue of the Riverspace Development, which would have a huge impact on the feasibility of a garage.  The comments on this post represent an online "conversation" that has occurred over the issue by some of the Task Force members.  They do no represent the views of the Chamber. 
It demonstrates the difficulties of a project of this scale.  All Task Force members support the idea of the Riverspace development, but there are concerns about feasibility, its impact on tax payers, and the process of how it is being implemented.