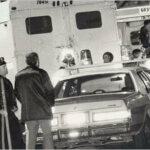 I was listening to Leonard Lopate today on WNYC during lunch, as he was interviewing Bill Ayers.  It was definitely an interesting interview, but my ears perked up when I heard them mention the bank robbery that turned violent in our fair Village of Nyack, leaving two Nyack police officers and a Brinks guard dead.
Bill Ayers had left the Weather Undergound by that time (1981) and the group had dissolved except for a few hard core members.  That incident in Nyack was considered the organization's last gasp.
I've only been in Nyack a couple years, so forgive that this is news to me.  Nyack has more influence on history books than its modest popuation would indicate, but there is something odd about its nature.  It would be interesting to compile a list Nyack's most unique contributions to history. It's much more than just "taking a kyack to Nyack".