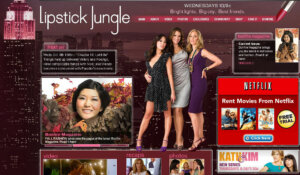 If you've seen movie trailers around town, it's because NBC is shooting an episode of Lipstick Jungle, starring Dylan Clark Marshall, Sarah Hyland and Brooke Shields.
One NNaV editor commented "if the shoot was anywhere else, it would have drawn a big crowd. But it seems like almost everyone in Nyack has their own IMDB entry and doesn't get excited about these things!"
Apparently, the Village of Upper Nyack and the Town of Clarkstown is movie/TV friendly.  And they get benefits, like overtime for the police.  Maybe the Village of Nyack should vie for some of the action.
Check out the following from lohud.com:
————————————–
Inside Rockland: TV Film Crews Discovery Clarkstown
October 01, 2008 20:44 PM
Should we start call Clarkstown '€œHollywood'€ on the Hudson?
Well, during the past few weeks, the world of television has discovered Upper Nyack and other areas of Clarkstown.
NBC-television crews have been filming episodes of hit comedy series, '€œ30 Rock'€ and the drama, '€œLipstick Jungle.'€ Also, ABC is filming '€œUgly Betty'€ at Davies Farm along Route 9W this week.
So far this week '€" and continuing tomorrow and Friday '€" Lipstick Jungle is filming at 501 Broadway, Rockland Lake State Park and Nyack Beach State Park.
NBC television bills '€œLipstick Jungle'€ (www.nbc.com/Lipstick_Jungle) as a drama that follows three high-powered friends as they weather the ups and downs of lives lived at the top of their game. It stars Booke Shields as a movie exec trying to balance career and family.
Late last month, crews filmed scenes for the Emmy-award winning '€œ30 Rock'€ at 649 N. Broadway in Upper Nyack. Clarkstown Police Sgt. Harry Baumann said the shoot drew comedian Bill Murray of Palisades fame, Emmy-winner Tina Fey (who has immitating Sarah Palin on Saturday Night Live). The comedy series also stars Alec Baldwin, an Emmy winner.
Clarkstown police officer do traffic control and security for the shoots, Baumann said, emphasizing the officers are paid 100 percent by the networks and it's considered overtime. Baumann said he is in charge of the assignment for the details and fielding calls from neighbors upset by the sound trucks and other equipment blocking the streets.
Baumann said the companies pay several thousands dollars. For example, this week's shoot could hit $13,000.
Several commercials have been filmed recently in Clarkstown.
'€œClarkstown is very film friendly,'€ Baumann said. '€œWe're a Hollywood town.'€
Rockland has a history of film stars and directors as residents. Director Woody Allen and others have filmed in Piermont an d other areas of the county. Nyack was the home of Helen Hayes, and the county can boast of Director Jonathan Demme and actor-director Bill Irwin, as well as Al Pacino, among others.