Nyack News and Views is not partisan, but this should be fun!
—————————————-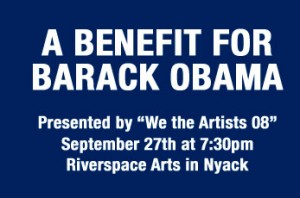 We the Artists, a grassroots collaboration of artists and Rockland County residents, will join forces to share their talents on Saturday, September 27 in Nyack, N.Y. Please spread the word about this special event.
Our three-part celebration of artists and community begins with a cocktail reception, followed by an evening of performances at Riverspace Arts, concluding with "afterparties" with a "Get out the Vote" theme at The Nyack Center and other venues.
________________________________
Toni Morrison – Nobel Laureate and author
Bill T. Jones – Award winning choreographer & dance pioneer
Bill Irwin – Two-time Tony Award winning actor & performer
David Shire – Academy Award winning composer & actress Didi Conn with Lynne Wintersteller
George Lamond, Soave – Recording Artists
gabrielle lansner & company, modern dance collective
And screening of a short film by Jonathan Demme
All proceeds from tickets to the performance will go directly to the Obama Victory Fund.
 ________________________________
* We the Artists Performance (includes admission to Afterparties):
$150 or $250 contribution
* $150 per person plus admission to the Afterparties.
* $250 per person for priority seating plus admission to
Afterparties
* Cocktail Reception and admission to all events: $500
contribution
* This includes a reception from 6:00pm – 7:30pm at
Murasaki Restaurant in Nyack; VIP seating at the performance; and admission to the Afterparties.
 * The Afterparties (6 parties, one price): $50 contribution
* Main Party @ The Nyack Center from 9:30pm to midnight –
Obama & grassroots groups, 'get out the vote' info, voter registration.
Dance with DJ Catch 22 plus appearances by Boyz del Barrio, jazz vocalist Lisa Sokolov, and more.
* Hudson House: 12:00am – 2:00am (Live Reggae Band)
* Murasaki Restaurant: Chill Lounge from 11:00pm – 1:00am
with DJ – Low
* Reality Bites: 11:00pm – 1:00am (Screening Jonathan
Demme concert films)
* Patisserie Didier Dumas: open 'til midnight to keep you
energized!
* Casa del Sol: After hours menu 'til 12, drink specials,
and "Mojo" (funk/blues).
________________________________
* Calling All Angels: $1,500 contribution
* We are looking for some angels to donate funds which
will underwrite more $150 seats for the performance. Your contribution includes admission for two to all events and will be acknowledged in the program. Your contribution is greatly appreciated by the campaign and the community!
________________________________
TICKETS for the performance (reserved seating) are on sale at the Riverspace Arts box office (credit cards or check to Obama Victory Fund only). Call the Riverspace box office at 845.348.1880 or visit
www.Riverspace.org <http://dlcc.wiredforchange.com/dia/track.jsp?key=-1&url_num=2&url=http%
3A%2F%2Fwww.Riverspace.org> .