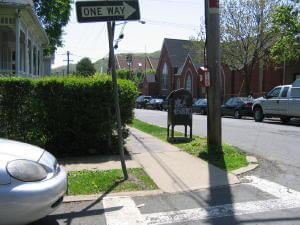 If you live on a corner lot in the Village, and plant shrubs in your front yard, you could be cited by the Building Department(Article 5, Section 59-20 B of the Village Code).  The short version is, if you plant shrubs taller than 2 1/2 feet, within 30 FEET of the corner, you're in violation.
Thirty feet may be your whole property. Maybe that makes sense in a suburban setting with large properties, but not in Nyack's compact village. The Village likely did what often happens which is to take boiler plate language created by engineers for suburban development that focuses on vehicular safety, not pedestians.  One of the primary assets of Nyack is it's centuries old compact development which makes it walkable.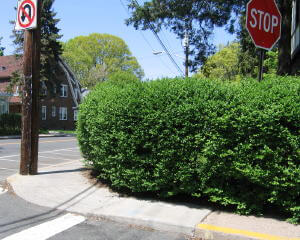 What is ironic is that there are several corner lots where there are huge shrubs that are within 2 feet of the corner, much less 30 feet. It is difficult to walk on many sidewalks because there is almost no sidewalk left, because there are 7′ shrubs taking up half the sidewalk. Try walking north along Broadway from downtown on the East side.
And also ironically, the danger in driving is not from shrubs but vehicles parked around the corner. Autos are allowed to park within about 10′ of the corner, and you can bet it will be a SUV that is about 6′ high, not 2 1/2 feet.
The code reads "At all street intersections in all residence districts, no obstructions to vision exceeding 30 inches in height above curb level shall be erected or maintained on any lot within the triangle formed ……. 30 feet distant …."