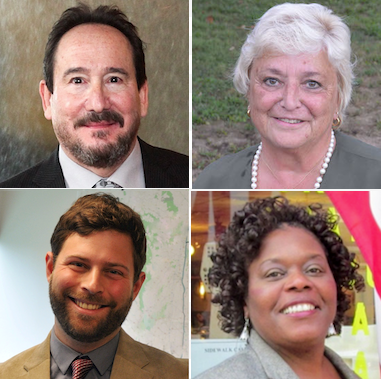 Updated, 9/11/2017: The Village of Nyack holds a primary election on Tuesday, Sept 12. Four candidates are running for two spots on the Democratic ticket to serve on Nyack's Village Board. Former Deputy Mayor and Village Board member Don Hammond is running unopposed for the Democratic nomination for mayor.
Because Nyack is overwhelming Democratic — and there are no declared Republican candidates — it is widely assumed that the winner of the Democratic Primary will also be the candidate who wins the general election. So if you want to have a voice in this election, make sure you go to the polls this Tuesday (this offer only applies to registered Democrats). Polls are open 6a-9p. Need to know where to vote? The Rockland County Board of Elections has got you covered..
Each of the four trustee candidates, Joe Carlin, Marie Lorenzini, Elijah Reichlin-Melnick and Anngela Vasser Cooper were invited to submit a closing argument statement.You are now one click away from helping the democratic process by being an informed voter.